Monday, July 6, 2009 at 4:04PM
I've made a commitment that scares the hell out of me, probably more than saying "Yes!" to The Candyman. I just bought 105 bud vases, 15 from Target and 90 from C&B Outlet (they are having a sale - limited quantities).
I spoke with my florist Angela and she thinks it's a great idea. The idea actually came from several sources, but the best picture I can come up with is from Budget Savvy Bride's recent wedding. She was a crafty little DIY bride and had this as her tablescape:
Photo by Evin Photography
Super cute, right?
So what's keeping me from doing my own, unique version of this? I've been stressing and stressing about what kinds of
centerpieces
to do and how it would hit my budget -
hard
. My florist is really awesome and the
arrangements
were coming out to be about $45 each (which is really good) and that was putting my reception flowers at $585-$900, depending on how many tables I'll end up with. That seems like too much to me, especially since we're having some flowers at the church and all the bouquets and such. I think that $45 might have been with me supplying the floral container too. I was actually hoping (and planning) to find something amazing overseas, but that was not the case.
So this is what I bought online and at Target today.
I bought 15 of these at Target for $.99 each, originally $1.99. Photo is actually from
C&B Outlet
.
I bought 30 of these from
C&B Outlet
on sale, 6 for $9.00 (regular $17.70!).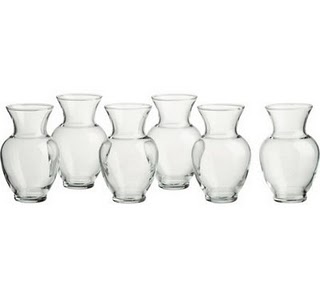 Bought 30 of these for the same deal as above.

Ditto here, 6 for $9.00!
So all told, I got 105 vases for $1.63 each. I think that's a pretty good deal, AND my florist says she'd be interested in buying the bud vases from me after the wedding. SWEET! We talked about her getting the flowers at cost for me and I could do the arranging myself, which is an option, but one I know friends and family might not encourage me to do. However, even if we put $4 of flowers in each vase (about 2-3 roses, for example), that comes out to $420, which is already less than the $585 I've got budgeted for the low end number of
arrangements
. I could mix mums and garden roses and
gerberas
in with fern curls to keep with the ivory/
sandalwood
/chocolate brown theme. I've also got a call into Carlin at
Mere

Bulles
as they hook up their tables with plain glass
votives
and tea lights, if brides want them. If I have a smattering of various sized vases and flowers mixed in with tea lights, well, I think that would be just pretty as all hell.
I can see it all in my head, I just have no idea how it's all going to play out. I'm totally freaked. Comments from the bridal gallery, please!
Designer, TruLu Couture
Blogger. Wife. Smart Ass.
8 Comments
Email Article
Print Article
tagged
Flowers
Permalink